Our Story
The World's Port Of Call
Who are we
PSA Singapore is one of the flagship terminals of PSA International, a leading port group with a global network encompassing 160 locations in 42 countries.
With a total of 55 berths and designed annual capacity of 50 million TEUs, we operate the world's largest container transhipment hub. In 2022, PSA Singapore handled 37 million twenty-foot equivalent units (TEUs) of containers.
With connections to 600 ports globally, shippers have access to daily sailings to every major port in the world, operating 24/7, all year round.
Beyond port operations, PSA Singapore is expanding its portfolio to offer shippers and cargo owners innovative supply chain solutions to facilitate global trade by enhancing the physical, financial and regulatory flow of cargo.
Where we come from
PSA, formerly known as the Port of Singapore Authority, was a statutory board regulating, operating and promoting the Port of Singapore in the 1960s.
In the 1970s, PSA started a container port and handled their first container ship. In the following decades, PSA grew and reached the 5-million TEU mark by 1990, making Singapore the world's largest container port then.
In 1996, PSA's regulatory functions were transferred to Singapore's new maritime regulator, the Maritime and Port Authority of Singapore (MPA). A parliamentary bill was passed on 25 August 1997 to convert the Port of Singapore Authority, a state organisation, into an independent commercial company.
PSA Corporation Limited (simplified Chinese: 新加坡港务集团) was corporatised on 1 October 1997. The company kept the initials "PSA" as its brand name but it is no longer an acronym.
PSA took the first step in becoming a global terminal operator in 1996 when it embarked on its first overseas venture in Dalian, China.
Today, PSA is a world leading ports and terminals group.
What we do
Transhipment – the movement of cargo from one vessel to another while in transit to its destination – is PSA Singapore's core business.
Singapore's strategic location at the heart of Southeast Asia and the nexus of major shipping routes has made it an important logistic hub and a key node in the global supply chain.
With its unrivalled connectivity, small feeder vessels bring containers to the Port of Singapore for loading onto larger vessels which then carry the shipments to their destination.
The value of transhipment lies in time-saving and cost efficiency. If every vessel makes a single direct voyage to its destination port, the number of journeys will be significantly higher than if transhipped via Singapore.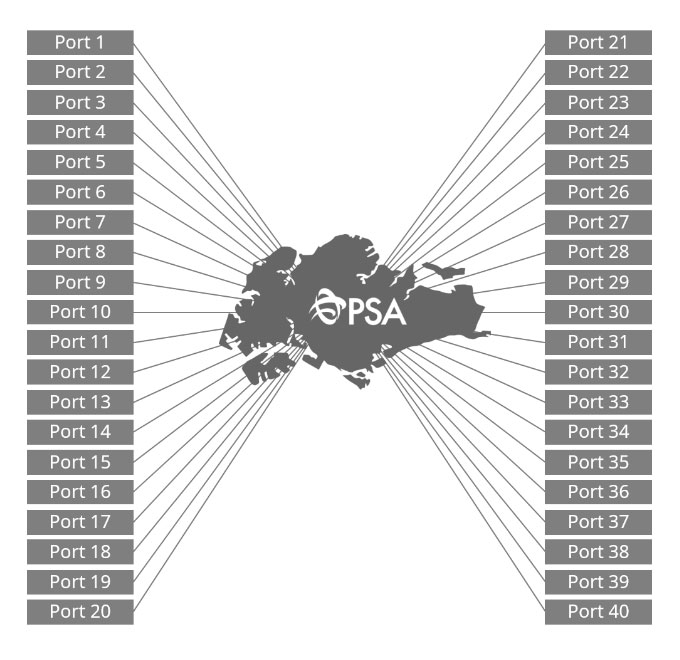 About 85 per cent of the containers that arrive in Singapore are transhipped to another port of call. Shipping lines use PSA for these modes of transhipment:
Hub & Spoke (Main Line Operator to Feeder)
Cross Strings (Main Line Operator to Main Line Operator)
The concept of transhipment truly connects the world and one is able to ship a container from anywhere to everywhere on earth.