Our Commitment
We Act On What We Believe In
We are driven by our purpose and committed to sustainable value creation. To be a responsible corporate citizen, we ensure our foundation is built on responsible corporate practices and commitments. As a business, PSA Singapore is committed to reduce carbon footprint, protect the health and safety of our people, safeguard the security of the port, and give back to the community we operate in.
Sustainability
In PSA Singapore, sustainability is not an option, but a responsibility to ensure the resiliency of our business, enabling growth without compromising on the environment and needs of the next generation. Our targets to reduce greenhouse gas (GHG) emissions are aligned with Singapore's climate ambitions. 
To date, PSA Singapore has developed decarbonisation efforts across our entire value chain – Scope 1 (direct emission from our equipment), Scope 2 (indirect emissions from power generation) and Scope 3 (all other indirect emissions in our value chain).
The decarbonisation of port operations is the focus of PSA Singapore's Environment, Social and Corporate Governance (ESG) framework. We have actively reduced our dependence on fossil fuels. Our three-track decarbonisation strategy – low-carbon fuels, renewables and electrification – dovetails with our overall business expansion and sustainability strategies.
Click here for an overview of our ongoing sustainability efforts.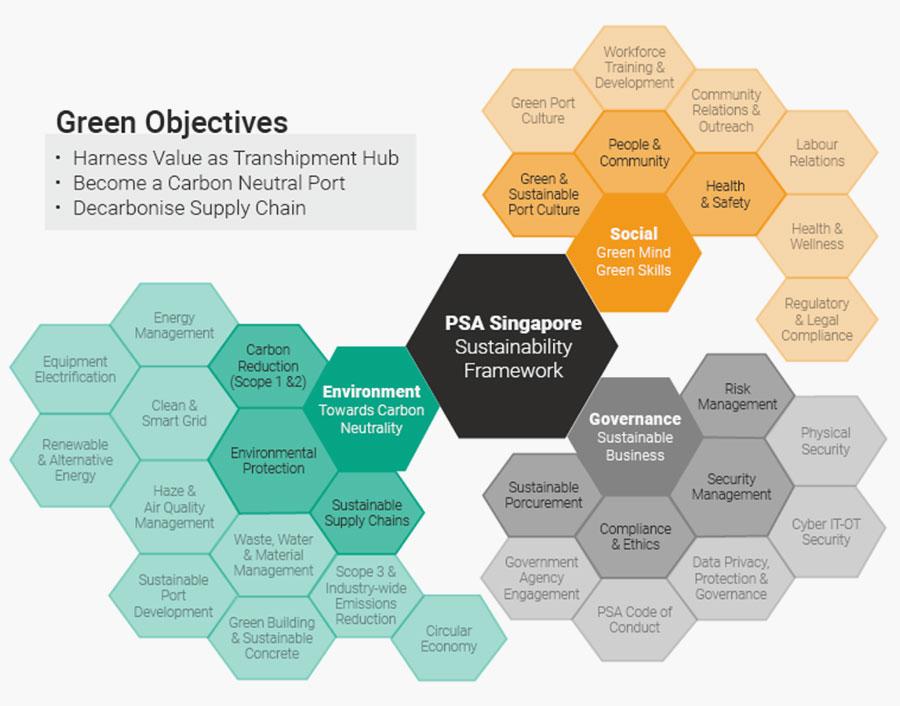 Decarbonisation Projects Highlight
Horizontal Transport
Horizontal Transport
PSA has built the first LNG refuelling kiosk in Singapore and phased in the deployment of LNG prime movers. Though a fossil fuel, LNG has a carbon footprint that is up to 20% lower than diesel. PSA Singapore is also exploring electric and hydrogen-powered prime movers with even lower carbon footprint.
Tapping on Nature for Fuel
Tapping on Nature for Fuel
PSA Singapore is harnessing solar energy through the installation of solar photovoltaic systems in Pasir Panjang Terminal and Tuas Port. They generate solar electricity and help reduce more than 2,200 tonnes of carbon emissions annually.
Smart Grid Management System
Smart Grid Management System
Artificial Intelligence (AI)-powered SGMS operates BESS and other distributed energy resources, such as solar energy harnessed on-site. SGMS improves port operations energy use through intelligent scheduling of BESS by enabling various applications such as energy demand management and provision of grid ancillary services. Energy demand management reduces spikes in demand via intelligent load forecasting capabilities
Battery Energy Storage System
Battery Energy Storage System
When SGMS foresees a surge in energy demand, BESS discharges to mitigate the surge, reducing volatility in PSA Singapore's energy load profile. SGMS allows PSA SG to participate in the electricity market and schedule BESS to provide grid stabilisation services. The innovative Battery Management System is also capable of handling mixed chemistries, allowing scaling of BESS to be agnostic across different battery chemistries.
Exploring Hydrogen as Fuel
Exploring Hydrogen as Fuel
PSA Singapore embarked on a R&D initiative to utilise extracted hydrogen from Methylcyclohexane for the proof-of-concept of hydrogen fuel cell prime movers. This is PSA's first step towards exploring hydrogen as a low-carbon energy source.
Green Buildings
Green Buildings
PSA Horizons and Tuas F2 Nexus Building (PSA's first super low energy building) are recognised with the BCA Green Mark Award Platinum for their green features and facility design which enable reduction in energy consumption as compared to a standard building.