Our Business
Making Global Trade Possible
Beyond providing best-in-class port operations and connectivity to shipping lines, PSA Singapore is committed to improving efficiency in the global supply chain and logistics ecosystem. We do so by providing customers with holistic container services and cargo owners with innovative solutions to reduce costs and increase speed.
Reefer Management
In Singapore, PSA has more than 13,000 refrigerated container ("reefer") points and a suite of complementary reefer services to ensure the quality of temperature-sensitive cargo is not compromised throughout its stay in the port.
We understand your cargo requires a reliable and robust end-to-end cold chain, so we collaborate with shippers, logistics service providers, and shipping lines and other cold chain nodes to tailor solutions for our sustainable outcomes.
Dangerous Goods Handling
PSA Singapore handles more than half a million TEUs of dangerous goods yearly. We have a team of qualified chemists, supported by our Emergency Response Team, to ensure that all dangerous goods are handled safely and meet the regulatory requirements.
The chemical services we provide include:
Depot Services
PSA Singapore provides a full range of standard depot services at our on-dock depots for empty containers. This takes place within the Free Trade Zone (FTZ) and customised services are available to meet every container's needs. Customers can leverage on PSA's position as a transhipment hub to receive or to ship empty containers at short notice within the depot's working hours. This eliminates bottlenecks and saves time, trucking and other related costs.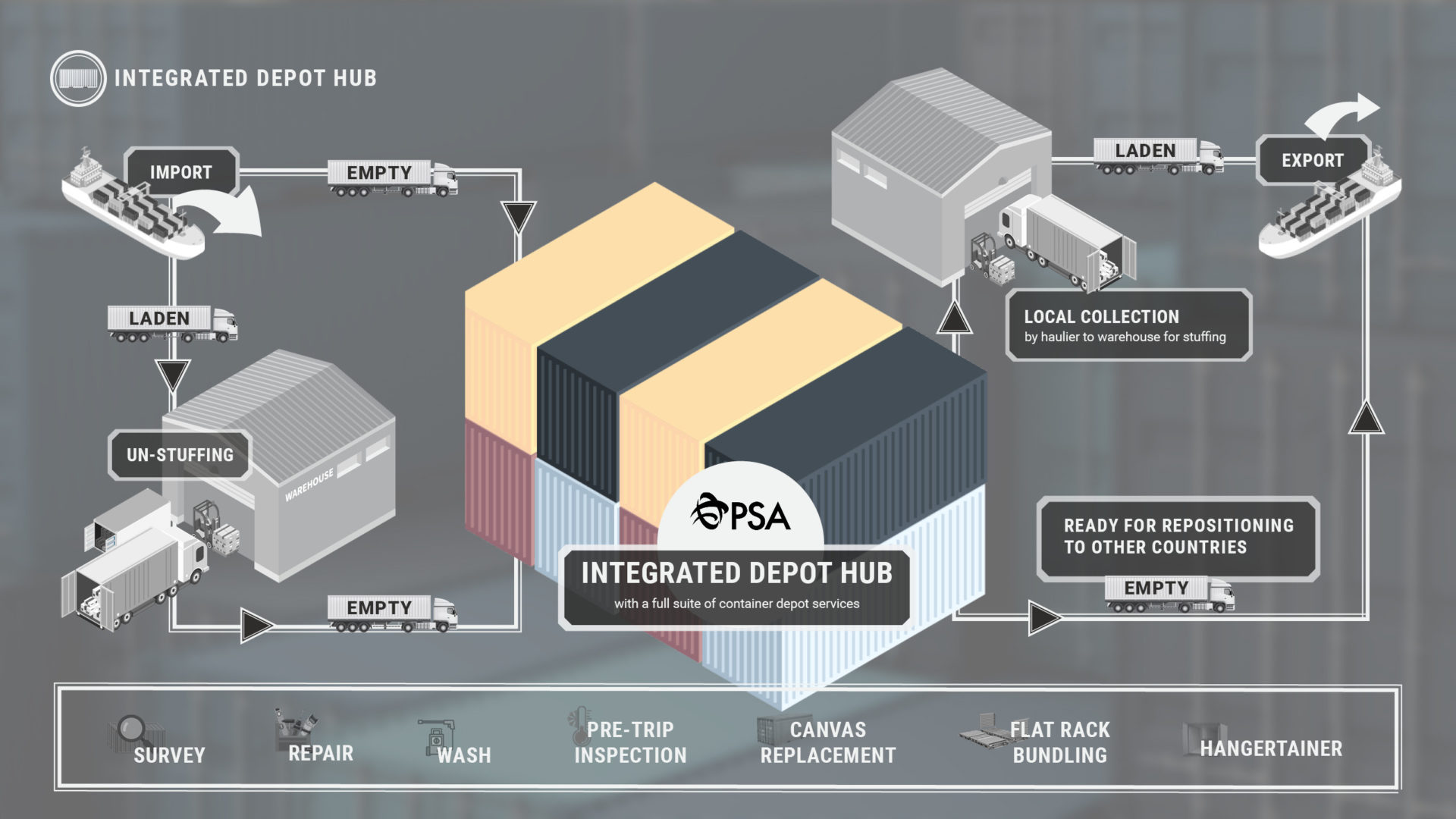 Warehousing Services
Keppel Distripark (KD) is a multi-tenanted and modern cargo distribution complex comprising a container freight station, heavy vehicle and chassis parks, warehousing and office facilities.
Located within the Free Trade Zone, KD's direct link to the container terminals allows swift transition of container between the port and distripark. It is also in close proximity with highways, granting excellent connectivity to the city, airport and major industrial hubs.
The KD CFS managed by PSA also serves as a one-stop station to handle customers' varied cargo requirements.